Hard to recycle plastics can be collected from your doorstep to help raise funds for tKC. Read on to find out what can be recycled and how to do it. You can even get your street involved..
Please send only those that cannot be recycled with Council Kerbside collection. Without your help, these items will most certainly end up in a Landfill. Please ensure the contents are CLEAN and DRY
HOW IT WORKS
Collect what can be recycled in your own carrier bag.
Staple/tape/tie the bag close
Include a minimum £1 donation placed in an envelope attached to your bag.
Text 07983 338708 for collection or drop off
Encourage your friends and relatives to join in – Please note that I only collect around Kenilworth.
Repeat.
We particularly need:
FOOD AND NON-FOOD –
Crisps and Snack (nuts; popcorn; pretzels) packets;
Confectionery, Biscuit & Cake wrappers. 
Cheese wrappers.
Bread and bakery goods plastic bags.
Coffee bags and bean pouches.
Inkjet cartridges and wrappers. 
HOUSEHOLD –
Tinted rigid plastic tubs, bottles & caps (not transparent);
Plastic air freshener containers, cartridge, caps & car air freshener;
Flexible plastic pouches for washing capsules, pods & dishwasher tablets; 
Plastic bottle & tub sleeves;   dishwasher salt packets. 
Disposable gloves (polyethylene, latex, vinyl, nitrile) used for household cleaning and gardening.   
PERSONAL CARE –
Plastic toothbrushes, Electric toothbrush heads & flosser nozzles;  
Plastic Flossing sticks & Interdental brushes;   empty Dental floss containers; 
Toothpaste tubes & caps.
WRITING INSTRUMENTS –
Pens, Plastic pencils, Highlighter & Marker pens, Plastic ink pens; 
Correction fluid bottles, pens & pocket mouse. 
NEW – we can now collect –
Food storage containers and reusable bottles.
Flash® floor wipes (Please ensure they are dry) and Dust wipes.
Marigold® plastic wrappers and all types of Marigold® gloves
Babybel® all packaging
Handwash pumps and refill pouches
Small broken toys and games from all brands in plastic, metal, wood, cardboard or paper
The followings are very welcome too:
MAKE UP –
Flexible plastic packaging for cleansing wipes;
Face compacts, tubes; plastic pots; sticks;
Plastic eye and brow pens, compacts mascara & wands;
Dispenser caps, pumps and trigger spray tops;
Plastic roll-on;
Lipsticks, lip glosses & lip balms.
FOOD FLEXIBLE PLASTICS –
Cereal, Rice & Dry food bags;
Peelable film lids & Frozen food bags;
Fruit, Vegetable, Salad bags & Flower wrapping;
Multipack film wrap, Clingfilm; Sleeves on Bottles.
FOOD AND NON-FOOD POUCHES & SACHETS (please rinse with water and dry) –
Confectionery, Homecare, Sauce pouches;
Baby food pouches;
Microwave food pouches;
Toiletries refill pouches, packets & sachets. Pet food Pouches.
NON-FOOD FLEXIBLE PLASTICS –
Carrier bags, Clothing bags, Bubble wrap;
Magazine and Newspaper wrappers;
Toilet roll & Kitchen roll wrapping.
OTHER –  
Soft Disposable Contact Lens;
Contact lens blister packaging & foil from contact lens blister packaging.
Pringles tubes.
Empty Medicine Blisters.
Razors and blades.
WHAT HAPPENS TO THE WASTE
I will collect or accept drop off the wastes, and quarantine them before sorting and sending to appropriate recycling facilities. The wastes will be recycled to become plastic packaging and/or furniture, etc.
WHERE DO THE FUNDS COME FROM
I donate all necessary collection bags and boxes & all the printing and administration time. Your donations (in whole) go to the Kenilworth Centre as it takes a high quantity of each waste type before attracting any pay out from the recycling companies. Where recycling scheme pays me points, I will convert them to cash and pay to the Kenilworth Centre. Where recycling scheme pays out cash, that will be transferred by BACS the Kenilworth Centre Bank account.
HOW ARE THE FUNDS USED
The Kenilworth Centre supports all aspects of the Kenilworth Community. In particularly I support the Mental Health of Children and Youths.
WHO IS IT FOR
Those who want to help the environment by diverting hard-to-recycle waste to be properly recycled.
Those who wants to save money on petrol and time on trips to recycling centres.
Those who wants help earn funds to give back to the Kenilworth local community.
May Lau fundraises on a private basis.
Thank you for your support.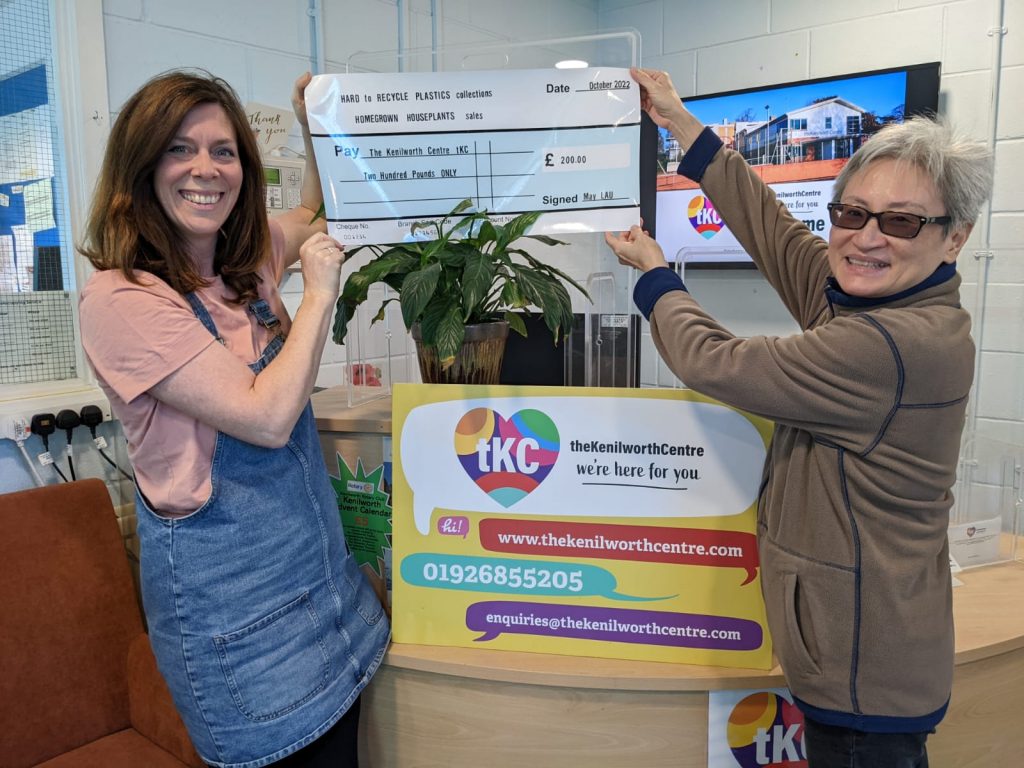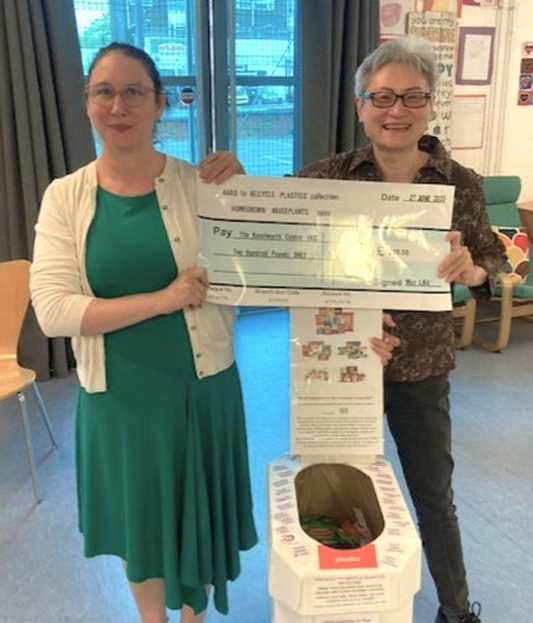 We would like to thank May for all of the hard work she does to raise funds for the Charity.